Blue-Band LLC Announces that Florida DOT Approved the D-TX Suite, NextGen, Solar Rechargeable, Wireless Bluetooth Traffic Detection Devices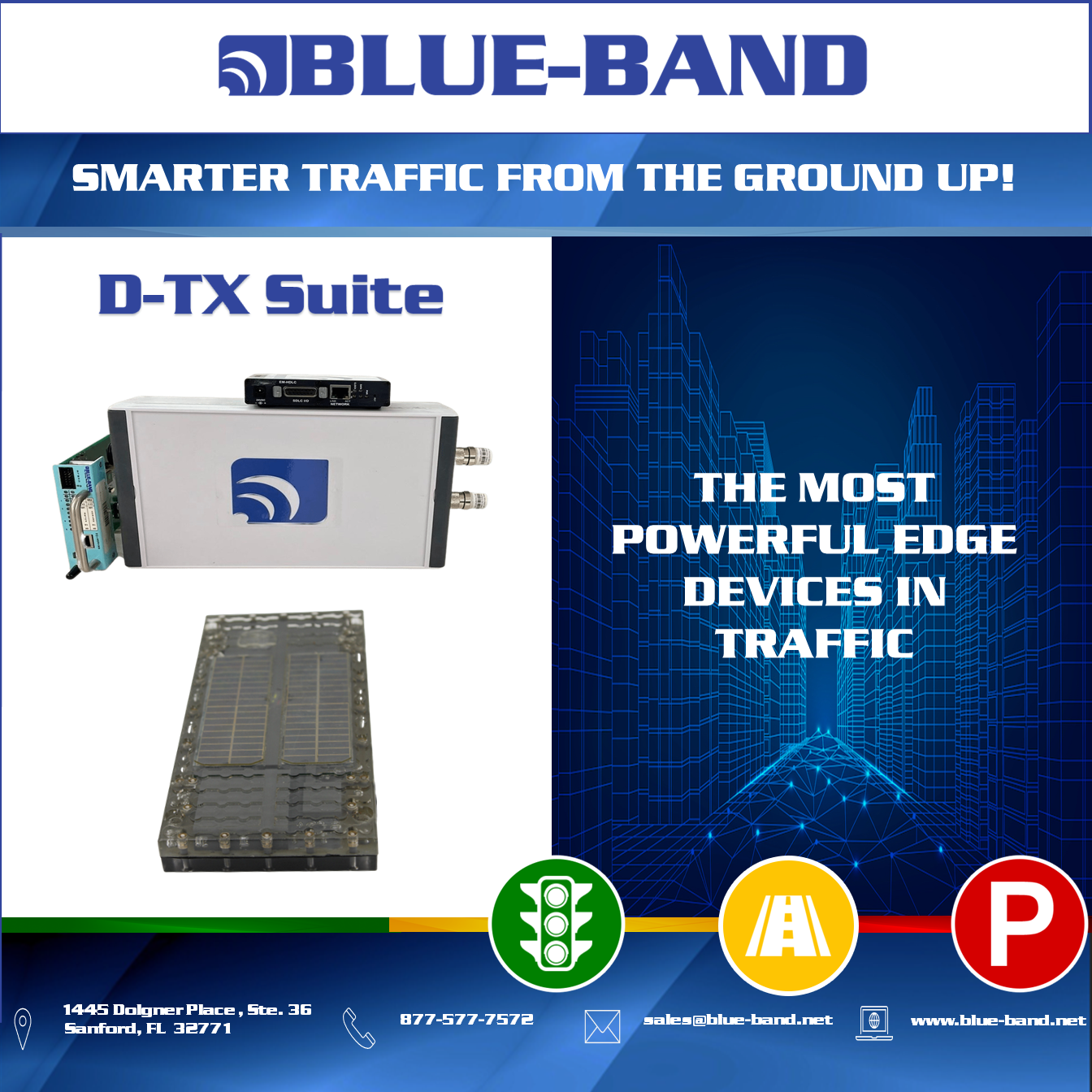 Sanford Florida – 10/12/2022 – BLUE-BAND, LLC is proud to announce that on September 16, 2022, the Florida DOT's Traffic Engineering Research Lab (TERL) approved the D-TX Traffic Suite. This multiuse intelligent traffic detection suite can satisfy numerous requirements for urban safety and mobility and provide a cost-efficient way for agencies to transform the transportation industry. Please visit the FDOT APL website for additional information.
"BLUE-BAND'S technology suite helps make our infrastructure smarter, safer, and efficient while reducing the cost of ownership and maintenance to accelerate the deployment of an intelligent transportation infrastructure that turns our roadways into "Smart-Ways," said Kevin Yorke, CEO
ABOUT THE FLORIDA DEPARTMENT OF TRANSPORTATION (FDOT)
The Florida Department of Transportation (FDOT or Department) is an executive agency, which means it reports directly to the Governor. FDOT's primary statutory responsibility is to coordinate the planning and development of a safe, viable, and balanced state transportation system serving all regions of the state and to assure the compatibility of all components, including multimodal facilities.
ABOUT BLUE-BAND, LLC
BLUE-BAND, LLC is a green, high-tech, MB/DBE-certified company that provides Smart City solutions for transportation agencies and their technology partners. Blue-Band technology was designed to leverage existing and emerging technologies to create a fully integrated smart transportation infrastructure.
Blue-Band creates next-generation Bluetooth V2X Transportation & Parking Technology solutions to help develop Smart Cities. Blue-Band's technology is highly sustainable, safe, and interactive. Blue-Band has developed the first intelligent multiuse technology that enables smarter intersections, freeways, and parking in a single system. Thus, creating green, budget-friendly services, and solutions for Smart City initiatives by combining Bluetooth, vehicle detection, and renewable state‐of-the‐art independent power system technologies. Blue-Band's green devices are powerful, advanced, and unique.
"We provide innovative smarty city solutions to the transportation industry with accountability, passion, and foresight powered by multiuse and renewable wireless technology." – Kevin Yorke, CEO
Leveraging Today's Technology will help shape the Smart Cities of tomorrow. Fueled by real-time data, wireless connectivity, and intelligent analytics, our integrated technology solutions can help drive new levels of efficiency, security, and safety, one Smart City module at a time.
Media Contacts & Corporate Information
Blue-Band, LLC
WWW.BLUE-BAND.NET
Email: [email protected]
Office:877-577-7572
"We Build Smart Cities from the Ground Up!
Traffic & Parking Sales Information
Blue-Band, LLC
WWW.Blue-Band.Net/Contact-Us
Email: [email protected]
Phone: 877-577-7572